From the Guardian (November 16 2018):
Khieu Samphan and Nuon Chea are the two most senior living leaders of regime that presided over deaths of at least 1.7 million in Cambodia.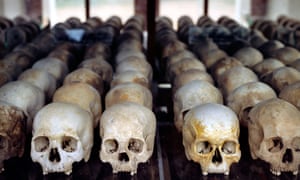 The two most senior Khmer Rouge leaders still alive today have been found guilty of genocide, almost 40 years since Pol Pot's brutal communist regime fell, in a verdict followed by millions of Cambodians.
Nuon Chea, 92, who was second-in-command to Pol Pot, and Khieu Samphan, 87, who served as head of state, were both sentenced to life imprisonment for genocide and crimes against humanity carried out between 1977 and 1979, in what is a landmark moment for the Khmer Rouge tribunals. The pair are already serving life sentences for crimes against humanity.
As senior figures in the Khmer regime, the court declared both men responsible for murder, extermination, enslavement, deportation imprisonment, torture, persecution on religious, racial and political grounds, enforced disappearances and mass rape through the state policy of forced marriages .
Nuon Chea, described by the court as "Pol Pot's right hand", was found guilty of all charges of genocide of the Vietnamese, former Khmer republic officials and the Cham Muslim minority. Khieu Samphan was found guilty of the genocide of the Vietnamese but was cleared of involvement in the genocidal extermination of the Cham.
The verdict gave a detailed account of some of the most horrific actions carried out by the regime, particularly focusing on the infamous S-21 security prison and execution site where tens of thousands were killed. Interrogations, and executions were carried out under the direct instruction of those in the "upper echelons, including Nuon Chea", who oversaw S-21 for two years.
"The chamber finds that prisoners were brought to interrogation rooms, handcuffed and blindfolded, their legs chained during questioning" said the verdict, adding that interrogation methods included "beatings with sticks, rocks, electrical wire, whips, electric shocks and suffocation and the extraction of of toenails and fingernails."
Header Image: Mark Peters / AP. 2013. Khieu Samphan & Nuon Chea.